Medicinal plants are popularly known as medicinal herbs, and they have been used in the traditional forms of therapeutic practices dating back to time immemorial.
The chemical compounds which are synthesized by the plants are extracted and made use of for the treatment of human beings against insects, infections, inflammations, diseases, fungi, bacteria and lots more.
The earliest records of the usage of medicinal plants date back to the Sumerian Civilization, where several thousands of these herbs were made use of, and their methods and applications were limited out on clay tablets.
Why are medicinal plants important?
India is well known for its wide range of medicinal plants that are known to possess amazing medicinal value. India has nearly 8,000 medicinal herbs and is also called as "Emporium of Medicinal Plants".
These plants not only important for treating or preventing of specific ailments and diseases but also to maintain good health and conditions. This is because they are considered safe with no or minimum side effects and used independently of age and sex.
The ancient Indians used these medicinal plants in Ayurveda and yoga, and these plants were used in the treatment of several significant harmful conditions. Herbal medicines have been proved to be an important medicine for the treatment of inflammatory disorders, diabetes, liver diseases and gastrointestinal disorder.
The active substances and compounds of nature are extracted and made use of in the medicines.
Top Indian medicinal plants and their uses
Indian medicinal plants are considered as the elixir of life as they possess extraordinary medicinal value along with the capability of being used for ornamental purposes. We bring to you some of the top Indian medicinal plants and the benefits that they bring to humanity.
They can be grown in your very own backyard and your kitchen garden or in little flower pot that can be hung on your balcony. Grow and nurture them so that you can use them to treat your ailments.
1. Ajwain or Carom: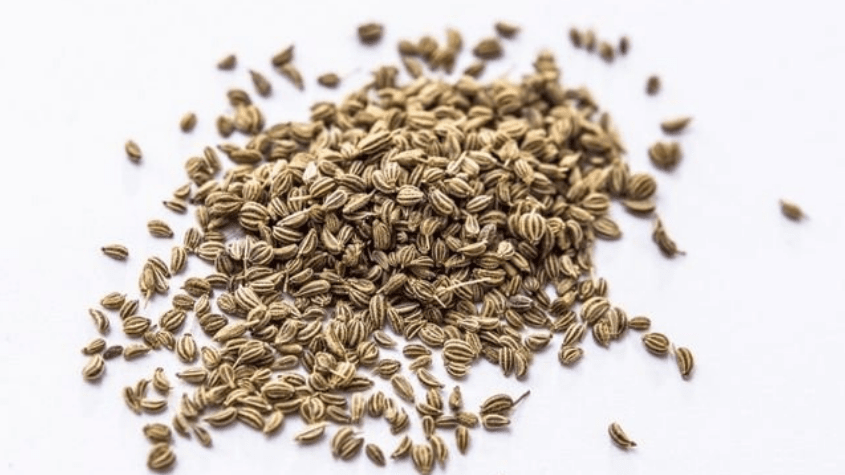 The Carom medicinal plant is popularly known as Ajwain all over India, and it is available in almost every Indian house. It is straightforward to grow it in one's backyard in flower pots, and it can withstand the harsh weather conditions as it does not require much water and sunlight for growth.
The leaves and the stem are edible, and it can be boiled well in water to make the good old ajwain tea. The leaves can also be chewed.
It possess medicinal properties like antifungal, antioxidant, antimicrobial and antihypertensive and phytochemical properties like carbohydrates, glycosides, phenolic compounds, volatile oil, protein, fat, calcium, phosphorous, iron and nicotinic acid.
Uses of Ajwain:
It is used in treating digestive issues and for curing the upset stomach.
It cures abdominal tumors, abdominal pains and piles.
It is used in treating stomach ulcers.
It reduces the greying of hair.
The paste of crushed ajwain can be applied externally to get relief from colic pain.
The hot and dried ajwain can be applied on chest to relief from asthma.
It can also be used in treating typhoid fever.
It is an important remedial agent for curing diarrhea.
It is used as preservatives for medicines.
The seeds of ajwain contain essential oil containing 50% thymol which is used in the treatment of gastro-intestinal ailments, lack of appetite and bronchial problems.
Thymol is also used in toothpaste and perfumery.
The crushed seeds can also be used on the joints to get relief from Arthritis pain.
Most Indian households make use of the ajwain in the preparation of curries, parathas, vegetables, curd, and salad.
It adds flavor and enhances the taste of the dish.
It is considered as one of the best natural mouth fresheners as the leaves can easily be chewed upon directly.
Another reason to add this medicinal plant to your kitchen garden is that it is believed to bring good luck charm to those households which grow it.
[source]
2. Aloe Vera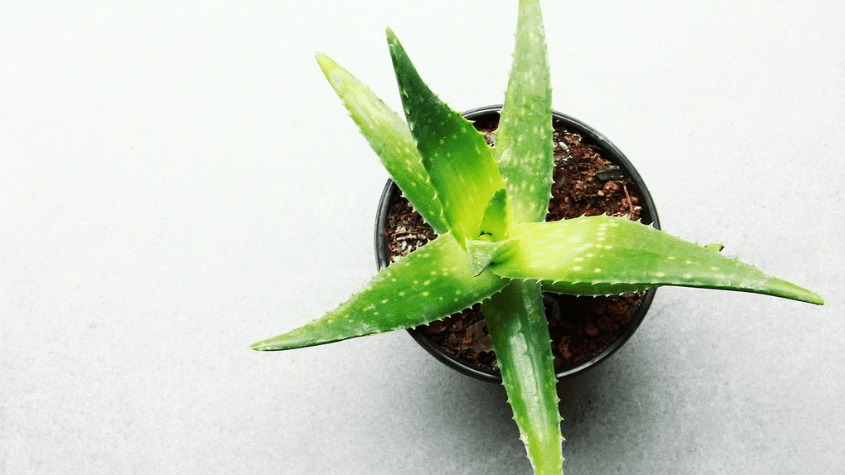 The aloe vera medicinal plant is popularly known across India as the wonder plant.
It is easily identifiable with its succulent leaves and sharp edges. Another reason which makes it one of the most preferred plants to grow in your backyard is because it is low on maintenance and very easy to grow.
The aloe vera plant has been a trusted plant for all kinds of remedies, since time immemorial.  It contains active components like vitamins, enzymes, minerals, sugars, lignin, saponins, hormones, salicylic acids and amino acids.
Uses of Aloe Vera:
The aloe vera plant is used in the treatment of skin inflammation, breakouts, scarring and in the treatment of wounds and burns.
It acts as protective agent against UV and gamma radiation which damage the skin.
The juice which is extracted from the aloe vera is known to boost the immune system.
It has laxative effects which increases intestinal water content, stimulates mucus secretion and increases intestinal peristalsis.
Aloe vera gel has antiviral and antitumor properties which is beneficial in cancer chemoprevention.
It induces fibroblast which produces the collagen and elastin fiber which makes the skin more elastic and less wrinkled which enables you to stay fit and young for as long as possible.
It can be used as tooth gel like toothpaste to fight against bacteria which causes pathogenic oral microflora in the mouth. [1]
Aloe vera extracts from leaf skin and flowers can be used as natural antioxidant agent. [2]
It is used in the removal of tan, skin infections, allergies, pus, and lots more.
It is much loved for its oxidants as it aids your body to fight against free radicals.
Note: It is not recommended to take aloe vera orally during pregnancy and breastfeeding.
[source]
3. Mint or Peppermint
The Mint plant is also, and other common homegrown medicinal plant found all over India. The plant can be used in various forms like oil, leaf, leaf extract and leaf water.
It is an antimicrobial, antiviral, strong antioxidant and has antitumor actions and some antiallergenic potential. It contains nutrients like calorie, fiber, vitamin A, vitamin C, vitamin B6, iron, magnesium, potassium, copper and folate.
The fragrance of the Mint leaf is sure to place you in a relaxing mood and make you feel rejuvenated. It is specially used during the summer months for its fragrance, freshness and rejuvenating capabilities. The leaves can be truth upon, or they can be brewed into a mint tea.
Uses of Peppermint:
Peppermint oil with ethanol can be used to treat tension-type headache in adults and children above 6 years. [3]
Its oil can be used to treat "Irritable Bowel Syndrome". [4]
Peppermint essential oil can be used in reducing abdominal pain, flatulence and diarrhea in patients suffering from "Irritable Bowel Syndrome". [5]
Peppermint oil can be used to reduce the itching problem in pregnant women. [6]
The peppermint essential oil can also be used as repellent against mosquitos which spread dengue. [7]
Peppermint oil promotes hair growth. [8]
Peppermint oil may help to get relieve from indigestion. [9]
Peppermint water may help to prevent nipple cracks and nipple pain for first time mothers at the time of breastfeeding. [10]
Inhaling aroma of peppermint essential oil can improve the cognitive performance and mood of a person. [11]
Smelling peppermint enhance motivation and alertness during driving and decrease the levels of frustration, anxiety and fatigue. [12]
Due to its sharp menthol odor and a pungent taste, it is used in bath preparations, mouthwashes, and toothpastes.
Peppermint oil is used to get relieve from irritation and inflammation.
Tea made from mint leaves has the capacity of making you feel refreshed and in a calm and peaceful state of mind.
It is the excellent remedy for insomniacs and people who are suffering from sleep disorders. Mint tea can give you sound sleep and keep your mind composed.
It is also one of the favorite medicinal plants in the treatment of diarrhea, cold and cough.
4. Tulsi
The tulsi plant is popularly known all across India as Basil. It is considered as a holy plant in India and is known as the elixir of life in Ayurveda and several other medical practices.
This is because it possess various medicinal properties like antimicrobial, anti-diabetic, anti-cancer, anti-fungal, anti-inflammatory, immune-modulatory, radio-protective, neuro-protective, cardio-protective and mosquito repellent. It is rich in nutrients like vitamin A, vitamin K, vitamin C, magnesium, iron, potassium and calcium.
It is also becoming increasingly popular internationally for its unique qualities and the lease of new life that it can give.
Uses of Tulsi:
Tulsi can be used in the treatment of bronchitis, malaria, diarrhea, dysentery, skin disease, eye diseases and insect bites. [13]
It helps to reduce metabolic stress through normalization of blood glucose, blood pressure, and lipid levels and psychological stress through its anxiolytic and anti-depressant properties. [14]
Tulsi leaf can be used to fight against oral cavity with the standard care. [15]
The tulsi tea can be used to treat the gastric and hepatic disorders.
The juice of tulsi can be used to get relief from ear pain.
It can be used as a hand sanitizer, mouthwash, water purifier, wound healing and preservation of food stuffs.
Tulsi is considered as one of the top air purifying plants as it clears away any sort of pollutants infectious air, poisonous and toxic air from your surroundings.
The Tulsi leaves brewed into a tea, and it is drunk for treating cold, fever, and flu.
It is used in the treatment of severe digestive issues and constipation.
It can be used in certain types of cancer treatment such as skin, liver, oral and lung cancer. [16]
Indian households perform Pooja and prayers around the tulsi plant as part of a traditional and ritual.
5. Coriander
Did you know that the coriander plant adds impressive medicinal properties? It is effortless to grow, and it requires very low maintenance.
It can be grown almost anywhere whether it is on your windowsill, balcony hanging pots, in your kitchen garden or your backyard. It does not require much sunlight and water.
It is one of the favorite plants in the Indian kitchen, and you will find it in a variety of dishes no matter the cultural background or the tradition of the people.
Coriander leaves are
Very low in Saturated Fat and Cholesterol
A good source of Thiamin and Zinc
A very good source of Dietary Fiber, Vitamin A, Vitamin C, Vitamin E, Vitamin K, Vitamin B6, Calcium, Iron, Magnesium, Phosphorus, Potassium, Copper and Manganese. [17]
Whereas coriander seeds are
Very low in Saturated Fat, Cholesterol and Sodium
Good source of Vitamin C, Phosphorus, Potassium, Zinc, Copper and Selenium
Very good source of Dietary Fiber, Calcium, Iron, Magnesium and Manganese. [18]
Uses of Coriander:
It is used to lower the skin inflammation. [19]
Its oil is also used to treat diseases which cause skin inflammation called as microbe caused or secondary infection diseases of the mucous membranes and oral cavity. [20]
Coriander is used as a medicine to treat bed cold, seasonal fever, nausea, vomiting, and stomach disorder. It can also be used for indigestion, against worms and joint pain. [21]
Coriander fruit can be used as gut stimulation, to lower the blood pressure and in hypertension. [22]
Coriander seeds are used to reduce the cholesterol level. [23]
It used to cure digestive disorders, respiratory and urinary systems. [24]
Coriander essential oil is used to prevent foodborne illness [25] and the oil is also used to treat candida yeast infections. [26]
Coriander leaves are used to improve bone health. [27]
It can be used in vegetables, curries, curd, parathas, and raitas to enhance the flavor and taste.
6. Lemongrass
Lemongrass is another popular medicinal plant known for its therapeutic effect. Its name is derived from its appearance which looks like of grass and taste like a lemon.
It is
Very low in Saturated Fat, Cholesterol and Sodium
A good source of Folate, Magnesium, Zinc and Copper
A very good source of Iron, Potassium and Manganese.
[source]
Uses of Lemongrass:
As a tea, it can be used to increase Hemoglobin Concentration (Hb), Packed Cell Volume (PCV) and Red Blood Cell (RBC) counts. [28]
The essential oil of lemongrass can be used as a vaporizer against bacteria, flu and colds.
The oil also helps to get rid from urine problems.
In summer, the oil can be used to lower down the body temperature and to refresh the mind and soul.
The oil is used as a remedy for insomnia as it has sedative/hypnotic property which increases the sleeping time.
The extract of lemongrass when taken with control dose lowers the cholesterol level.
Lemongrass can be used to improve digestion and to cure nausea, menstruation problems, headaches, muscle cramps, spasms and rheumatisms. [29]
The essential oil can be used to treat fungal infections and skin inflammation. [30]
It is used as flavoring agent in foods and as a fragrance in deodorants, soaps and cosmetics in manufacturing. [31]
Lemongrass is used to reduce gastrointestinal problems.
It can also be used to treat or prevent anemia. [32]
7. Amla
Amla is also known as Indian Gooseberry which possess amazing medicinal properties. Its various part is used in treatment of various diseases but its fruit is most valuable.
It is known for its antioxidant, anti-inflammatory, cardio protective, ant anemia and antidiarrheal properties.
It is
Very low in Saturated Fat, Cholesterol and Sodium
A good source of Vitamin A, Potassium and Manganese
A very good source of Dietary Fiber and Vitamin C.
[source]
The Amla is easily identified as a green color fruit which is Semi-transparent which can be either eaten directly or juiced and consumed.
Uses of Amla:
It can be used as anti-cancer and anti-tumor preventives. [33]
It is used as tonic to get back the lost energy and strength.
It can be used to treat diarrhea, jaundice and inflammation. [34]
It is very effective in healthy liver functioning and can be used to protect the liver from toxic effects of liver damaging agents. [35]
It is an effective medicine in the treatment of diabetes. [36]
It is used to reduce the blood glucose and lipid profile in type 2 diabetic patients. [37]
The fruit, seed and seed coat powder contain omega-3 and omega-6 unsaturated fatty acid which can be used to enhance the foods. [38]
It enhances the reproductive system of both men and women.
It can be used as a moisturizer for skin which removes the toxic tissues to get the glow and luster.
It effectively treats the indigestion problems and mild to moderate hyperacidity. [39]
It can be used with honey to preserve the eyesight.
It helps to prevent premature ageing.
It helps to enhance hair growth and premature graying.
It is the perfect remedy for your immune system and in controlling and managing the rate of metabolism in your body. [40]
8. Ashwagandha
Ashwagandha is a medicinal plant which is known as the scientific name Withania somnifera. It is a useful herb used in the Ayurvedic medicines.
It is either used as a whole, or its various parts like its berries, roots and leafs have been used to treat different kinds of ailments.
It is one of the best medicines and can be used as "adaptogen" to increase human health and longevity.
Uses of Ashwagandha:
The standardized leaf extract can be used to reduce stress, anxiety, serum concentration of cortisol and CRP, pulse rate and blood pressure. [41]
The powder of roots can be used to reduce the LDL-cholesterol, VDL-cholesterol, serum cholesterol and triglycerides.
The powder can also be used to lower down the blood glucose and to increase urine sodium and urine volume. [42]
The root powder can improve the level of anti-oxidants, semen quality and treat the stress related infertility in male. [43]
Some animal experiment has proved its effectiveness against chemically induced cancer and ovarian tumor. [44, 45]
It helps to boost strength and increases the muscle mass of the body who take resistance training. [46]
It can be used to treat mild to moderate symptoms of menopausal syndrome in women. [47]
Ashwagandha Ghrita can be used to improve the nutrition level of the body in children. [48]
It can be used to increase aerobic capacity and endurance of the elite athletes. [49]
It may be helpful to eliminate sleep loss on learning and memory impairments. [50]