Pavanamuktasana is also known as Wind-Relieving Pose or Gas Releasing Pose is performed to release stuck air from the whole body, specifically from the gastrointestinal tract and joints. The name has come from the Sanskrit and consists of three words "pawan," "mukta," and "asana." The meaning of these three words in English are as follows
Pawan means "Wind/Air."
Mukta means "Release" and
Asana means "Pose/Seat."

Pawanmuktasana massages the internal organs of the digestive system and strengthens the abdominal muscles. As a result, it improves the bowel movement, which smoothens the release of the gas from the stomach.
This asana is also beneficial in freeing the joints and improving energy flow within the body. While practicing this asana, make sure the body should be kept in a supine position.
Pawanmuktasana is divided into three series of exercise:
Anti-rheumatic – Practice to release the stiffness in the joints and muscle. This series of asana is suggested for everyone with no age bar.
Anti-gastric – Practice to strengthen the digestive system and to release the blockage. This series of asana must be avoided by people suffering from high blood pressure, severe heart conditions, and back conditions such as a slipped disc.
Shaktibandas – to release blocked energy and to break down neuro-muscular knots. This series of asana must be avoided by people suffering from heart problems, high blood pressure, leg injury, and abdominal surgery.
Steps of Pawanmuktasana
Lie flat on your back on a smooth surface and keep the legs straight and together.
Put your arms beside your body and keep body and mind relaxed.
Inhale deeply and rhythmically.
Exhale slowly and lift the legs and bend at the knee. Bring the legs to the chest until your thighs press the abdomen.
Clasp the knees with both hands and lock your fingers.
Try to pull the knees to touch with your nose tip.
Hold this position for 20 to 30 seconds and breathe normally.
While exhaling, gently release the clasped hands and slowly straight the legs and come back to the original position.
Practice this asana 4 to 5 cycles each day.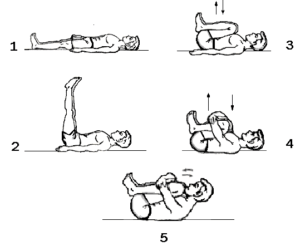 Image Source – TheYogaInstitute
Duration of Pawanmuktasana
Although yoga practices have various durations and frequencies. Some studies have shown that it ranges from 10 minutes, 25 to 35 minutes to 60 minutes daily. It has also shown the beneficial results from 45 to 60-minute sessions 6 days a week, 03 sessions of 75 minutes each per week, and 90 minutes sessions twice weekly. Many studies have supported for 3 months of the intervention, while in a few reviews, responses of 15 days, 40 days, and 6 months were proved beneficial. [1]
Following these suggestions, one can practice Pawanmuktasana as little as 10 minutes, combined with standard medical care.
Benefits of Pawanmuktasana
Improves Cardiovascular Health
Pavanamuktasana is a forward bending asana, and forward bending asana regulates the blood pressure. [2]
While practicing Pawanmuktasana, the legs are brought higher than heart level, which causes hydro-static pressure to work to provide better blood flow towards the heart.
It also strengthens the abdominal muscles, which helps the blood to flow in the abdominal aorta and its tributaries. As a result, it provides a better flow of nutrition and oxygen in the gastrointestinal tract and to the various joints. [3]
Strengthen the Digestive System
This asana strengthens the abdominal muscles and massages the digestive organs. It increases the peristaltic movement and very effective in removing wind and constipation. [4]
Abnormal gut motility can lead to bloating, constipation, diarrhea, and other IBS symptoms. As this asana increases peristaltic movement, as a result, decreases the IBS symptoms. [5]
Helpful in Type-II Diabetes
This asana massages the internal organs and improves the insulin sensitivity helping to reduce the blood sugar level. Pavanamuktasana can help diabetes by releasing insulin from the pancreas.
In a 2005 study, 20 patients with type-II diabetes were investigated on a 40-day yoga asana exercises including Pawanmuktasana. After 40 days, the result indicated a decrease in fasting glucose levels, a significant decline in waist-hip ratio, and beneficial changes in insulin levels. [6]
Relieves Arthritis Symptoms
Arthritis refers to the inflammation in more than one joints. Common arthritis joint symptoms include pain, stiffness, swelling, redness, and limited range of motion.
Right practice of Pavanamuktasana provides flexibility in the joints, relaxes stiff muscles and removes trapped gases within the joint. As a result, it provides mobility to the joints and reduces the joint inflammatory symptoms. [7]
Provides Strength to Abdominal and Back and Improves Flexibility
Pawanmuktasana provides flexibility and releases the stiffness of the muscle.
In a study, 30 physical education students were selected to find out the effect of Pawanmuktasana on abdominal strength, back strength, and flexibility. After 06 weeks of the study, it has been found a significant impact of Pawanmuktasana on abdominal strength, back strength, and flexibility. [8]
Beneficial for Reproductive Organ and Menstruation Disorder
The pelvic viscera and abdominal organs are toned through its massaging action, which provides a beneficial effect in the treatment of impotence, sterility, and menstrual disorder.
Precautions
You should avoid this asana if you are suffering from high blood pressure, slip disc, ulcer, hernia, back and neck problems.
You should also avoid it if you have undergone recent abdominal surgery.
Women should avoid it during pregnancy and menstruation.
Beginners should start this asana slowly and carefully until the abdominal muscles have gained sufficient strength.

Also Read: