Akhrot, popularly known as its English name "Walnut" is considered as the king of all nuts.
The health benefits of akhrot are many and include boosting immunity, bad cholesterol reduction, coronary heart disease prevention, and type 2 diabetes control. Akhrot can also benefit brain health, helps in weight loss, improves semen quality in men, and treats depression.
Consuming a handful of raw akhrot daily can provide several crucial nutrients like protein, fiber, carbohydrates, antioxidants, omega – 3 & 6 fatty acids, and vitamins and minerals.
Nutritional Profile of Akhrot
Akhrot is loaded with essential nutrients and every 100 grams of akhrot provides the following nutrients:

Nutrition Facts (Serving size: 100 g)
Nutrient
Value
Water
4.1 g
Calories
2738 kJ
Carbohydrates
13.7 g
Protein
15.2 g
Dietary Fiber
6.7 g
Total Fat
65.2 g
Omega – 3 fatty acids
9.079 g
Omega – 6 fatty acids
38.092 g
Vitamin A
20 IU
Vitamin C
1.3 mg
Vitamin E
0.7 mg
Vitamin B1 (Thiamine)
0.3 mg
Vitamin B2 (Riboflavin)
0.2 mg
Vitamin B6
0.5 mg
Niacin
1.1 mg
Folate
98 mcg
Pantothenic Acid
0.6 mg
Calcium
98 mg
Iron
2.9 mg
Magnesium
158 mg
Phosphorus
346 mg
Potassium
441 mg
Zinc
3.1 mg
Copper
1.6 mg
Selenium
4.9 mcg
Phytosterols
72 mg
(Source)
Health Benefits of Akhrot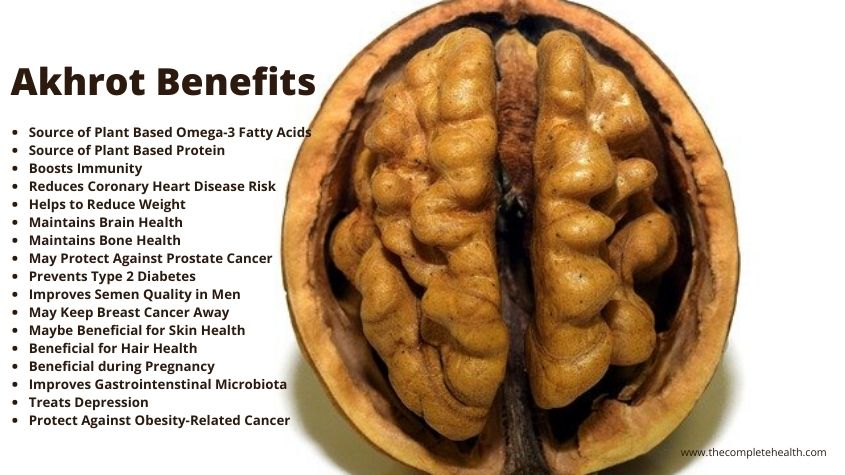 1. Source of Plant Based Omega-3 Fatty Acids
Omega-3 fatty acids are essential fatty acids that our body does not produce. They can be taken from foods or supplements. They are polyunsaturated fatty acids that have numerous health benefits.
Omega-3 fatty acids can reduce inflammation and may help lower risk of chronic diseases such as heart disease, diabetes, cancer, and arthritis. They also regulate blood pressure, maintains brain health, build glucose tolerance, and reduce the risk of cardiovascular disease. [1]
Alpha-linolenic acid (ALA), the most common omega-3 fatty acid is found in plant-based source including walnut. The omega-3 content in Walnut is the highest among all three nuts. [2]
Every 28g (1 ounce) serving of akhrot provides 2.5g of omega-3 fatty acids.
In addition, the daily intake of ALA depends on age and sex. The National Institutes of Health has recommended average daily amounts for ALA.
| Life Stage | Recommended Amount of ALA |
| --- | --- |
| Birth to 12 months (total omega – 3) | 0.5 g |
| Children 1–3 years | 0.7 g |
| Children 4–8 years | 0.9 g |
| Boys 9–13 years | 1.2 g |
| Girls 9–13 years | 1.0 g |
| Teen boys 14–18 years | 1.6 g |
| Teen girls 14–18 years | 1.1 g |
| Men | 1.6 g |
| Women | 1.1 g |
| Pregnant teens and women | 1.4 g |
| Breastfeeding teens and women | 1.3 g |
(
Source
)
2. Source of Plant Based Protein
Protein is the building block of muscle, bone, hair, skin, and tissue. It is commonly found in animal products.
Nuts are one of the best sources of plant-based protein. Akhrot provides 15.2g of protein in every 100g of serving which is 30% of the daily value.
Besides, the current international Recommended Dietary Allowance (RDA) for protein is 0.8 g per kg of body weight, regardless of age. [3]
Whereas the WHO sets the daily recommended intake of protein according to the age: [4]
Infants: 2.5 g protein/kg body weight per day for the age of 0 to under 1 month, 1.8 g protein/kg body weight per day for age of 1 to under 2 months, and 1.4 g protein/kg body weight per day for age of 2 to under 4 months.
Children between 4 months and 12 months: 1.3 g protein/kg body weight per day.
Children between 1 year and 4 years: 0.82 g protein/kg body weight per day.
Adolescence: 0.70 g protein/kg body weight per day for males and 0.68 g protein/kg bodyweight for females.
Adults < 65 years (Both Men and Women):  0.8 g protein/kg body weight per day or 55-57 g protein per day for men and 47-48 g protein per day for women.
Adults ≥ 65 years (Both Men and Women): 1.0 g protein/kg body weight per day or 67 g protein per day for men and 57 g protein per day for women.
Pregnant Women: 0.9 g protein/kg body weight per day in the second trimester and 1.0 g protein/kg body weight per day in the third trimester.
Lactating women: 1.2 g/kg body weight per day.
3. Boosts Immunity
A strong immune system is essential to save our body from infection and toxins.
To boost immunity minerals like copper and zinc and, vitamin E & C play an important role. [5, 6, 7]
Akhrot is loaded with these minerals and vitamins. Every 100g serving of walnut provides 3.1 mg of zinc, 1.6 mg of copper, 0.7 mg of vitamin E and, 1.3 mg of vitamin C.
Thus, including walnut into the diet will provide the crucial nutrients which, as a result, boosts immunity.
4. Reduces Coronary Heart Disease Risk
Coronary heart disease also known as Coronary artery disease is one such condition when cholesterol buildup called plaque on the walls of coronary arteries. These plaque depositions narrow the coronary arteries and reduce blood flow to the heart. As a result, it reduces the enough supply of oxygen and nutrients to the heart causing the heart attack.
The plaque buildup due to high LDL cholesterol, low HDL cholesterol, high blood pressure, and diabetes.
However, in a controlled study, it was found that daily consumption of walnut decreases the CHD risk. The rich component linoleic acid (LA) and alpha-linolenic acid (ALA) in walnut, help to decrease the non-HDL cholesterol which reduces the coronary heart disease risk.
In another clinical study, it was found that daily consumption of walnut associated with reduced coronary heart disease risk. This result also demonstrated the beneficial effect is due to omega – 3 and omega – 6 polyunsaturated fatty acids of walnut.
5. Helps to Reduce Weight
Healthy eating is one of the best things to do for weight loss and is the priority in the fitness plan.
Dietary fiber plays an important role in reducing weight. Fiber is inversely associated with body weight and body fat.
Consuming fiber increases satiety, reduces hunger, decreases the absorption of macronutrients, and alters the secretion of gut hormones. As a result, it helps to decrease energy intake and body weight. [8, 9]
Akhrot is rich in dietary fiber and provides 6.7g of fiber in every serving of 100g. So, the consumption of akhrot will decrease the feeling of hunger and appetite which can lead to weight loss.
Besides, in a HealthTrack study, overweight and obese participants were explored for the intervention trial period of 03 months and 12 months. One group was given 30gm walnuts/day and changes in the body weight, energy intake, and intake of key foods, physical activity, and mental health were observed.
After 03 months, the walnuts group significantly reduced weight and their food choices also changed and after 12 months their optional food/beverages intake decreased and weight loss remained greatest.
6. Maintains Brain Health
Our brain is the central part of the nervous system. All information that the brain receives is stored as the memory. It involves the steps – encode, store and recall information.
Lifestyle factors such as unhealthy diet, lack of exercise, smoking, and exposure to environmental toxins lead to oxidative stress and inflammation, protective signaling, and toxic protein accumulation.  These factors destroy cells within the brain as you age.  As a result, they alter interneuronal communications, causing deficits in memory, cognition, and motor function. [10]
An ellagitannins, a type of polyphenol content of walnut can help fight against the inflammation and oxidative stress. [11]
In addition, anti-oxidant rich food (including walnut) is associated with increased cognitive function in the aging brain. [12]
Walnut also contains rich amounts of polyunsaturated fatty acids such as linoleic acid (LA) and alpha-linolenic acid (ALA) which boost brain health in the aging brain. [10]
7. Maintains Bone Health
Osteoporosis is a common disease all around the world. Osteoporosis is a disease that makes the bone thin and fragile. It, as a result, causes the bone to easily fracture even on mild stress. The most fracture prone bone are the hip, wrist and spine bones.
Nutrients like calcium, protein, magnesium, phosphorus, potassium, manganese, copper, iron, zinc, vitamin A, vitamin K, vitamin C, and the B vitamins are essential for healthy bones. [13]
Walnuts are rich in all the essential nutrients which are required for healthy bones.
Besides, in a study, the methanolic extract and ellagic acid of walnut have shown a high anti-atherogenic potential and a remarkable osteoblastic activity. These, as a result, are beneficial in preventing bone loss.
8. May Protect against Prostate Cancer
Prostate cancer is one of the most common type of cancer among men. It occurs when cells inside the prostate gland start growing out of control.
Like all types of cancer, the exact cause of prostate cancer isn't clear yet. Although in a study, some foods such as high intake of fruit, processed meat, canned fish, and high-fat dairy products found linked with prostate cancer.
In addition, in a study at the Nutrition Journal, suggested that the walnut content vitamin E and ellagic acid are beneficial in reducing the risk of prostate cancer.
In another study at the Journal of Medicinal Food on mice revealed that walnut reduces prostate tumor growth by affecting energy metabolism and deceases plasma IGF-1 and cholesterol. The researchers also concluded that these effects are not due to walnut's omega-3 fatty acids, but due to components found in the walnut's fat component. Although more human research is needed to verify this claim.
9. Prevents Type 2 Diabetes
Type 2 diabetes is a chronic condition in which our body cannot effectively process the blood sugar. Middle-aged or older people are most likely to get affected by this kind of disease.
Various factors such as overweight, inactive, low-fiber, high-fat and sugary diet, genetics are some of the reasons involved in developing type 2 diabetes. [14]
However, in an analysis, it has been found that long term consumption of walnut has been associated with lower diabetes risk. The vitamins, minerals, antioxidants, and phytoesterols walnut provides are associated with preventing obesity and type 2 diabetes.
Besides, in a controlled study for 06 months, 112 participants (31 men and 81 women) at risk of type 2 diabetes were participated in the study and included 56g of walnut daily into their diet. The study revealed that the inclusion of walnut into the diet has been associated with the reduced risk of developing type 2 diabetes.
10. Improves Semen Quality in Men
Semen quality is a crucial measure of the ability of semen to accomplish fertilization.
Walnut consumption has been proved beneficial in improving semen quality.
According to a research for 12 weeks, it has been proved that consuming a handful of walnuts can improve the health of sperm in men. The study included 117 men, age group of 21 – 35, who were divided into two groups.
One group added 75g of whole-shelled walnuts to their daily diet while the other group continued to their regular diet but not included walnuts. The health of semen got improved in men who added walnuts to their regular diets compared to the men who did not.  According to the research, the natural plant sources of walnut, omega – 3 and omega – 6 fatty acids was the reason for such improvements.
In another randomized clinical trial, 75 men seeking care for infertility of age range 27 to 61 years were investigated for the effect of walnut consumption on semen parameters and fertility.
The group divided into 42 g/day walnut consuming group and nutritional supplement group. The 1 year follow up data showed an improvement in sperm motility & concentration and higher frequency of pregnancy in the walnut group.
11. Improves Gastrointestinal Microbiota
Human gastrointestinal microbiota are several species of microorganisms (especially bacteria) that live in the digestive tracts. These microorganisms play a crucial role in maintaining immunity and preventing obesity, cardiovascular disease, and cancer.
Results from various studies supported the consumption of walnut to improve gastrointestinal health.
One study at the Journal of Nutrition found that walnut consumption could alter the composition and function of the gastrointestinal microbiota and microbially derived secondary bile acids and reduce serum total cholesterol and LDL cholesterol concentration.
In another research at the Louisiana State University, Health Sciences Center on a rodent model revealed that eating walnut increased the types and numbers of beneficial gut bacteria like Lactobacillus.  The researchers identified the reason for the increase in diversity of bacteria was the beneficial components of walnut such as omega-3 fatty acid, alpha-linolenic acid, fiber, and antioxidants. They concluded that eating walnut could act as a prebiotic which help to reduce cardiovascular disease risk, slow tumor growth, and improve brain health.
12. May Keep Breast Cancer Away
Breast cancer is the most common cancer occurs in women.
Diet & nutrition, immune system and lack of physical activity are some of the reasons for breast cancer development. [15]
Studies on regular consumption of walnut on rat models have been found beneficial in reducing the risk of developing breast cancer. These studies have identified omega-3 fatty acids, antioxidants, and phytosterols of walnut that are responsible for slowing cancer growth.
In a study at the Marshall University School of Medicine observed that consumption of the walnut diet altered expression of multiple genes associated with proliferation and differentiation of mammary epithelial cells. Besides, the consumption of walnut also significantly reduced the tumor incidence, multiplicity, and size.
In another study at The Pennsylvania State University found that walnut oil extracts decreased the rapid increase in the number of breast cancer cells and gene expression.
13. Maybe Beneficial for Skin Health
Skin is regularly directly exposed to the air, solar radiation, and other environmental pollutants. These factors are capable of inducing the generation of free radicals as well as reactive oxygen species (ROS). [16]
Free radicals try to grab an extra electron from atoms in the skin to stabilize themselves. When molecules are taken from the skin, it causes oxidative stress and DNA damage, which leads to skin aging.
An article in July 2012 stated that the antioxidants could reduce the concentration of these free radicals in the tissues.  Vitamin C & E are important antioxidants for the treatment of skin aging.
Besides, the combination of vitamin C and E showed higher antioxidative protection than vitamin C or E alone.
Vitamin C was proven to have a skin anti-aging effect by inducing the production of collagen, as well as enzymes important for the production of collagen.
Whereas vitamin E has anti-inflammatory and anti-proliferative effects. It maintains the skin smoothness and humidity and contributes to the photo-protection of the skin.
Walnut is rich in both vitamin C and E concentration and may help to reduce skin aging.
In addition, in a study, following the dietary test, omega-3 fatty acids, antioxidants, vitamin A, and zinc have also been proved beneficial in the treatment of acne.
Walnut contains these nutrients. So, regular consumption of walnut may be beneficial for the acne treatment.
14. Beneficial for Hair Health
Strong and healthy hair is a sign of healthy eating and good hair care practice. The health of hair depends on factors such as diet, age, hormone, and genetics.
The diet is the only factor that we can control to get healthy-appearing hair, especially if hair damage is caused due to poor nutrition.
Protein, omega – 3, omega – 6, carbohydrates, vitamin C, A & B vitamins and minerals like zinc, iron, copper, selenium, magnesium, and calcium are essential nutrients required for healthy hair. [17]
Walnut is packed with all the required nutrients, so eating walnut will help to get healthy hair.
15. Beneficial during Pregnancy
Proper nutrition plays a crucial role in pregnant women and their children. Maternal nutrition is a determining factor in fetal brain development and later neurodevelopmental outcomes.
A study published on 7 May 2019, stated that when mothers consumed a diet rich in nuts (including walnuts) during the first trimester of pregnancy, there was an improvement seen in the long-term neurodevelopment of the child. The study identified that this benefit of nuts is due to essential fatty acids omega-3 and omega-6 they contain.
In another study on the rat model proved that walnut consumption by mothers during pregnancy is associated with improvement in learning and memory of their offsprings.
16. Treats Depression
Research has shown that diet pattern can be a powerful tool to deal with depression and anxiety.
Intake of protein, carbohydrates, omega–3 fatty acids, vitamin B1 (thiamine), B2 (riboflavin), B6 & folate, and calcium, zinc, iron, magnesium, and selenium have been linked to improving mood. [18]
So, eating walnut will provide essential nutrients and put you in a better mood.
Besides, a study among healthy adults between the ages of 18 and 25 years observed that intake of walnut associated with improving mood in males.
Whereas another study found an association of walnut consumption with fewer and less frequent depressive symptoms. These depression-related characteristics were consistent across both genders but consistently stronger among women than men.
17. May Protect Against Obesity-Related Colon Cancer
Obesity is one of the main health issues worldwide.
An epidemiological data suggested that obesity is associated with a 30-70% increased risk of colon cancer in men and less consistent in women.
However, in a study, it was found that the antioxidant and anti-inflammatory properties of walnut significantly break the obesity-colon cancer link.
How to eat Akhrot?
Akhrot is a versatile nut and there are several ways to consume regularly:
Eat an ounce of akhrot five times a week. Take it 60 min before bedtime or 1 serving in the morning.*
Start the day with a handful of raw akhrot to feel energetic whole day.
Add a glass of akhrot smoothie as a mid-day snack.
Sprinkle some crushed or small pieces of akhrot over desserts to make a little crunchy.
Top oatmeal or yogurt with akhrot.
Add akhrot to green leafy vegetables or fruit salads.
*Serving size
1 ounce= 28 grams which contains (Fat – 18.3 g, Protein – 4.3 g, Carbs – 3.8 g, Fiber – 1.9 g)
How to Select Akhrot?
Akhrot is available all the year-round in the market in several forms
Shelled,
Unshelled,
Salted,
Sweetened and
Ground walnuts.
While buying shelled akhrot, look for plump, and firm on touch. It should be meaty, crunchy, and uniform in size.
Whereas unshelled akhrot should feel heavy in hand and be free from cracks or holes. Test it by placing in water, good akhrot will sink to the bottom.
Avoid the akhrot that looks soft and shriveled as this is an indication of age. Smell the nuts for its nutty smell and to ensure they are not rancid.
Conclusion:
Akhrot is one of the oldest and healthiest nuts in the nut family. It can be considered as a "super-food" for its numerous health benefits. Including akhrot into the diet will provide essential nutrients that help to prevent severe diseases like cancer, heart problems, diabetes, and many others.
In addition, there is a chance of gaining weight because of its high calories if taken in large quantities. Too many akhrot can also cause stomach bloating and loose motion. So it is better to keep a limit and be healthy in every possible way.